ABM-100
ABM-100 Smartphone Anemometer

The ABM-100 is our first of a series of tools that connect to smart devices and are specifically designed for the HVAC industry.

The airflow balancing meter quickly and easily converts air speed into air volume for you. Then it records the data to a history log which can be emailed for professional looking reports.

Portable, tool fits in your pocket
Easy to use, no math or formulas to remember
Professional, automatically generates and emails detailed reports to impress customers
Includes free app for iPhones, iPads, and most Android smartphones

Product Links
---
sPM-100
SPM-100 Dual Port Manometer

The SPM-100 utilizes onscreen guidance in the app to make it easy to take accurate pressure readings. The user is shown where to place the color coded static pressure probes (sold separately) and how to take measurements.

Measures:

Static Pressure




Pressure Differential




Total External Static Pressure




Indoor vs. Outdoor Conditions




Weather Data




Stores and Sends Reports




Product Links
---
SPM-K1
SPM-K1 Dual Port Manometer & Probe Kit

The SPM-K1 combines the convenience of our innovative probe kit with the power of the SPM-100 Static Pressure Meter.

Includes:

SPM-100 Dual Port Smartphone Manometer
Two Stainless Steel Static Pressure Probes with Magnetic Color Coded Bases
Two 6' Lengths of Rugged Latex Tubing
Brass Barbed Fitting for Taking Gas Readings
New Ergonomic Carrying Case with Improved Cord Management System

New App Screen For Taking Gas Pressure Tests!
---
ABM-200
ABM-200 Airflow & Environmental Meter

The ABM-200 has all of the features and functions of the ABM-100 plus it m

easures Temperature, Humidity, and Pressure to provide:

Dry Bulb Temperature
Wet Bulb Temperature
Feels Like
Relative Humidity
Dew Point
Barometric Pressure
Air Density
Wind Speed/Direction/Gusts

And it is wireless for hands-free operation
---
TS-100
TempSmart TS-100 Temperature & Humidity Meter
with Data Logging

The TempSmart meter is the perfect combination of size, power, and accuracy for today's HVAC professional. Small enough to always have it with you and powerful enough to transmit detailed reports on building systems behavior.

Dry Bulb Temperature
Wet Bulb Temperature
Feels Like
Relative Humidity
Dew Point
Stores Over 2 Months of Data Locally (5 min. readings)
Weather Resistant

The TempSmart is placed into standby mode whenever it is left open. The user can then access the meter from up to 100' away at anytime from their smartphone, tablet, or smart watch.
---
TS-100-6PK
TempSmart 6-Pack Data Logging Kit
The TS-100-6PK makes deploying the TempSmart data loggers easier and even more cost affordable. The 6-Pack comes with 6 of the TS-100 meters in an ergonomic carrying case. Once deployed, each TS-100 can be assigned a custom name to make it easy to identify the location and track the building conditions.
---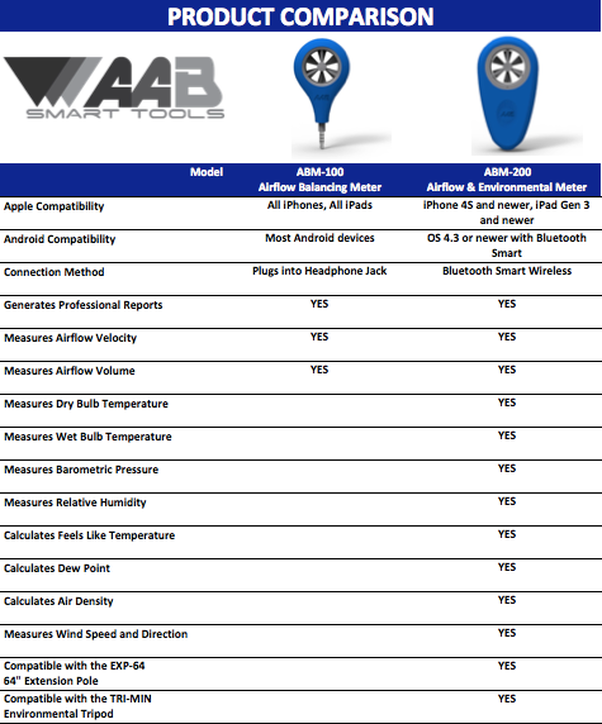 Accessories
EXP-64

Extension Pole - Extra long reinforced 18-64" extension pole with rugged grip and 1/4" 20 universal mount for use with the ABM-200



PRB-KIT

Stainless Steel Static Pressure Probe Kit for the SPM-100 - Contains two probes, two color coded magnetic handles, two 6' sections of rubber tubing, ergonomic carrying case



TRI-MIN

Mini-Tripod - Collapsible 6-8" tripod with 1/4" 20 universal mount for taking environmental condition readings with the ABM-200